Today Allison graduated, so first we will take a little walk down memory lane..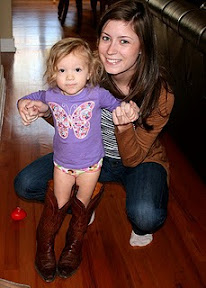 On a different note.. How about James' Christmas broach he wears at work :)
Pretty :)
And I made this casserole for dinner.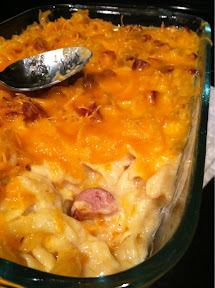 It's a Rachel Ray recipe where I could use some extra hotdogs, cheese, and noodles that we had. It was SO good!
And Bee was practicing his acrobatics today. Emmy got a kick out of it when the fan made him move.
He has a surprise in store for Emmy tomorrow morning!
We had our own little surprise today. Our next door neighbors house got broken in to in the middle of the day. We had the sliding glass door open all day since it was so nice and didn't hear a thing. They are thinking it was someone they knew but its still scary to think a robber was basically in our backyard and I had the door wide open!
We also found out today that Emmys friend Rachel is going to have a little sister. Now Caitlyn will have a little buddy too! They are gong to be so cute!
Grammie comes home tomorrow!