Today Bee is chillin with a window seat. He seems to like those.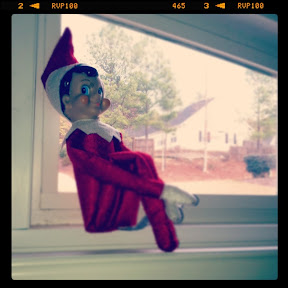 This morning I put on my big girl britches and took both girls out in public by myself for the first time. We went to play and pray at church and while I didn't manage to get any pictures when we were there, I did take a really cute one before we left.
I think this is gonna be my favorite Christmas outfit. We made 2 ornaments, played with a bunch of kids, sang songs, listened to a story and had snacks. It was an action packed 2 hours! And we will definitely be going back.
When we got home the girls took some excellent naps.
Caitlyn has taken to sleeping on her stomach. She has been getting a lot better naps which leaves us with a much happier baby in the evenings. Hallelujah!